Hola's goal is to make the Internet faster, more open, and cheaper to operate. Hola is a collaborative (P2P) internet — Hola works by sharing the minimal resources of its users for the benefit of all and for business use by Bright Data. Hola provides several products based on this resource sharing technology:
Hola's free network allows consumers web browsing for limited amounts of time using a community powered (Peer-to-Peer) network. Hola is used by over 160 million people worldwide!
Hola's Premium extends the benefits of its Hola Free to more sites and more platforms, such as mobile devices, SmartTVs, game consoles etc. Hola Premium uses a dedicated network of high performance servers.
Hola is the first community powered (Peer-to-Peer) network, where users help other users make the web world-wide again. This means that Hola routes your traffic through other peers (nodes) in the Hola network, as opposed to routing through power-hungry costly servers. This allows Hola to provide you with a superior service with minimal underlying costs. Using real peers to route your traffic rather than proxy servers means that Hola is harder to detect and block. Currently, Hola runs in a hybrid mode - combining traditional VPN architecture and peer-to-peer technology. Chrome browser extension, Opera browser add-on and Edge browser add-on operate as a standard service, and are not part of the Hola peer-to-peer network
Hola can be installed as a browser extension to Chrome, Opera or Edge on Windows and Mac. Hola can also be installed as an app on Android or iOS, and is available as an application (.exe) for Windows. All downloads are accessible directly from our home page (installation and use of Hola is subject to our Terms of service and Privacy policy).
Yes. We offer a free plan that provides limited daily use. Daily usage is individual for each user, so if the usage exceeds the limit, we will offer you to subscribe to the Hola Premium service.
We can offer this free plan thanks to our peer-to-peer architecture. However, some users may prefer not to contribute their resources to the Hola network, and thus can join the Hola Premium service, which lets you use Hola without minimal use of your resources.
For commercial use of proxies all over the world, we recommend Bright Data.
About Hola Premium subscription:
Check out our premium page for a list of available subscriptions, with a 30 day money-back guarantee policy
Helps fund our efforts to make the internet more democratic!
You are never used as a peer
You can use your Premium membership on up to 10 devices by signing in to hola.org in each platform (you must be signed in to hola.org for the Premium membership to take effect)
Sign up for Hola Premium here
Hola uses a number of different technologies.
All clients are connected to our standard data center proxy servers using https proxy or IKEv2. Once a request arrives at the proxy server, the user is then sent in one of 3 directions:
Directly to the proxy itself
Routed internally to a different data center
Sent to our P2P network
We have an internal algorithm to decide the most efficient, reliable, and cost effective route — all based on the needs of the customer.
The fact is that Hola uses P2P technology that gives us a massive advantage over our competitors. However, our job is to access any site. Therefore in many cases the P2P option is not the best route, for example on iplocation-like sites.
Your use of Hola Free Limited product is free of charge in exchange for safely using some of your device's resources (WiFi and very limited cellular data), and only when you are not using your device. You may turn this off by joining Holas Premium service. Please see our TOS for further information.
For desktop users we use less than 100MB per day. For mobile users it is around 3MB per day. This is how we are able to provide a free service.
Please also note that Hola doesn't show ads or sell information. Furthermore, free users can just install our browser extension. In this case they are not part of our P2P network and don't contribute any resources.
Our vision at Hola is to make the web world wide again, by allowing users to browse without censorship, geographical restrictions and blocking.
We believe in a democratic, borderless internet. We engineered Hola in a totally new way - as the world's first (and only) peer to peer community, where each user in our community shares a small portion of their resources for the benefit of the network, and thus Hola can be free of ads.
Hola makes its revenue by providing corporations the same service we provide to users, but for a fee.
Like any P2P network, Hola is a "value exchange" network — you get the Hola free limited service (on PC, Mac or Android), and in exchange you provide a certain amount of network and processing power when your computer is not in use. This is similar to Skype and other P2P services. To provide its functionality, Hola sometimes needs to route your services through peers (other people's devices) on the Hola network. In return, some of their traffic is also routed through your device. They cannot access your device, they are only routed through it. Hola is free limited on PC, Mac and Android only for non-commercial users. For commercial use by businesses, Hola provides similar routing functionality through the Hola network for a fee. This is how Hola makes its revenues. The amount of traffic that Hola passes through a peer on its network per day on average is less than a 20 second YouTube clip. Premium users of the Hola network pay a monthly subscription and in return only use the network and do not contribute to it with minimal device resources.
Yes, consumers can pay a fee to only use the Hola Premium service, but not contribute their unused resources to the network. This would mean that you will be using Hola just as any other paid-for service. Sign up for Hola Premium here
VPNs have existed for almost as long as the Internet. VPN companies need to set up and maintain servers in various countries. These servers are then used for routing your traffic in order to change your IP. In addition, these companies need to pay bandwidth bills for their users' traffic. This is very expensive. This built-in cost, coupled with the need of any company to turn a profit, makes a traditional service quite expensive for the end-user (typically around $10 per month).

Hola built a peer-to-peer overlay network for HTTP, which routes the sites you choose through other Hola users' devices and not through expensive servers. Users that opt-in to the peers' community agree to contribute their device's resources to the network. Hola takes up minimal resources from these users' devices. This makes Hola the first service that has minimal underlying operational costs. Users who want to enjoy the Hola network without contributing minimal device resources can do so by joining the Hola Premium service.
Like any P2P network, Hola is a "value exchange" network - you get limited web browsing, in exchange for providing a minimal amount of network and processing power.

The amount of traffic that Hola passes through a peer on its network per day on average is less than a 20 second YouTube clip.
Hola is an "IP exchange network" by which users can unblock all of the world wide web. This is Hola's main benefit as advertised on our web site and multiple publications since 2012 when we started.
Hola may be viewed as the VPN comparable to Airbnb — whereas traditional services must own expensive servers (real estate) and therefore charge high fees, Hola is an "IP exchange network" where people provide their IP address in exchange for using other people's IPs. Much like where Airbnb can offer more locations at a lower cost because of their network, Hola can offer more IP locations and a much lower cost by doing the same for IPs.
This patented technology has made Hola the only service that was able to serve over 250,000,000 people to date with a free limited unblocker, which otherwise would have been too expensive for any company to provide. Because of Hola's huge number of locations (IPs), it is the most unblockable service, allowing people in countries that censor the Internet to see the Internet as it was intended to be.
Hola makes it clear on its web site that it employs technology to catch potentially malicious uses of its network, and that we do keep logs and will report any malicious use to the authorities. These measures are make Hola unattractive service for people with malicious or illegal intent to use. They much prefer the various other services that promise not to keep logs.
In our over 8 years of existence and more than 250 million users, to our best knowledge there has not been even one user that has been suspected (much less charged) with illegal use as a result of another user's actions.
Please see the attached document to see how Hola complies with multiple security company requirements.
We keep Hola free limited for PCs by selling the same service that you use to businesses.

Hola works because it is a peer-to-peer network - you use the network and contribute to the network. To provide this service without charge to our community, Hola charges validated corporations for use of the network. For Hola users that do not want to be a peer in this network, we offer the Hola Premium service, which lets you only use the network, but not be a part of it
Hola keeps your information private and does not pass it on to any third party. Consumers have grown used to having Internet businesses collect some of their personal information and sell that on to third parties (either as advertisements or other). Hola's business model is different — we don't collect any of your personal information — we use a small fraction of your computer's resources when they are not in use (so that we never slow you down) for the benefit of the network. We find that to be much less intrusive than the existing business models. Check out our premium page for a list of available subscriptions.
We definitely need your help to make the internet better! Here's what you can do:
Tell your friends and family! Share about us on your Facebook page (See our Facebook page for items to share)
Translate: Help to translate Hola to your native language! If you are interested to do so, please visit translate page
Hola free limited and Hola Premium are for private, non-commercial use. If you are looking for a robust business proxy service please check Bright Data service and receive a free trial. Your subscription to Bright Data will grant you with:

Automation: developer API that allows controlling the routing of your HTTP/S requests via software
Allow many concurrent sessions
High bandwidth/high request rate with multiple IPs
More precise IP resolution
Access to 30+ million IPs all around the world
Geo-targeting options like: country, city, ASN, and carrier
Faster changing of IP
Engineering technical support
Businesses typically use the Bright Data service for:
Brand Monitoring: Brands use Bright Data to check the prices and descriptions of their products in stores that sell these products, to ensure compliance with pricing and description of the brand.
Anti ad-fraud / ad-cloaking: Ensuring that advertisements' landing pages conform to the content of the advertisement itself, so that there are no malicious advertisements on the brand's site
Self-test: Checking what the brand's site looks like from different locations around the world
Price comparison: Brands use Bright Data to anonymously compare their prices with their competitors' to ensure that they are competitive
To reset your password go to forgot password
Yes. Your Hola user account works across all platforms. If you purchase one of our Premium plans, you can become a "Premium" user on up to 10 different devices. There is no need to buy a plan for any device. One plan covers all platforms.
We cannot change your email address once you registered with it. If you registered with a wrong email, register again with the right email address.
Try each of these methods separately:

Go to the site you want to access, click the Hola extension icon, and select the flag of the country you want to view the site from
If that does not work, disable and enable the Hola extension
Try forcing the site to reload by pressing the CTRL and F5 (or Shift + refresh button)
Clear your browser's cache, including the cookies (typically under 'Settings' > 'Privacy' or keyboard shortcut CTRL +SHIFT + DELETE)
Close the browser, reopen it, and try again
Disable other extensions to check if any of them is causing the problem
Uninstall Hola from the browser. Then, go to Hola's site and click 'Start'
Disable other VPS (Virtual Private Server), proxy software, or other software that might conflict with Hola, such as IE tab, Avast WebRep, Flash Blocker, and NoScript.
Test your Hola by going to IP location service


It should show the country from which you are browsing. Click the Hola extension icon > under 'Select Country' select United States, or any other country. The page will refresh, and should show that the country from which you are browsing is United States, or the country you choose. If it does not, proceed with the steps below.

Ensure that you have the latest version of your browser:
Disable your antivirus or firewall (at your risk) to see if they are causing the problem
If you still have problems, please see the problem report
Try each of these separately:
For Chrome
Close Chrome, and reopen it again
In Chrome, move your mouse to the address bar at the top of the page, just beside the bookmarks star. Try to drag the address bar to the left
Try to click the '>>' (more) icon at the top right of the address bar, and see if Hola's icon is on the list
Open Chrome's extensions settings. Ensure that Hola's extension is installed. If not, download it from Hola's webpage
Disable and re-enable Hola
Disable all other extensions and then enable them back, one by one, to find the extension that is causing the conflict with Hola.
You could be receiving this message either because you are behind a corporate firewall through which Hola cannot pass, or because the Hola system is down. Alternatively, this message can result from some other problem that we are not able to pinpoint. If you are behind a firewall (e.g. at work), try connecting to a different network (different WiFi for example), or outside the company. Otherwise, try the following:
Disable and enable the Hola, and try again
If that does not work, clear your browser's cache, including the cookies (typically under 'Settings' > 'Privacy' or keyboard shortcut CTRL + SHIFT + DELETE)
Close all of your browsers, re-open and try again
Uninstall Hola (on your browser's extensions, and through add/remove software), and re-install Hola from Hola's site
Your Premium membership is associated with the account you used for registering to Hola when you started the membership. As long as you are signed in, using that account, you appear as a Premium user. Sign in to your account
For example, if you registered with your Google account and you are using your Facebook account, Hola will not recognize you as a Premium user
The email you received from Hola after starting your subscription indicates which account is associated with your membership
If you used PayPal to pay for your membership, it may take few minutes for the membership status to get updated
If you have a Premium membership but still do not see that in your status, take the following steps:
Go to the My Account page
Use the same account you used when you registered for Hola Premium. If you are not sure which account to use, refer to the email message you received from Hola when you started your subscription.
Check the 'Premium Membership' section for your membership status:
If it shows beside 'Active Until' a future date, it means your membership is valid through that date
If it reads 'You don't have a Premium subscription. Already a Premium member?', you might have signed in by using the wrong account. Try logging out and logging with a different email address and check the My Account page again. For example, if you signed in using your Google's account, log out and try to sign in with your Facebook account, or your email address.
Please note: Hola service is provided for each platform individually. Therefore, you need to purchase a separate membership for each platform where Hola is to be used.
If the problem is not resolved, contact our support team
If you'd like to manually buy each subscription period (monthly, yearly) separately, you can do the following:
Go to the Premium page and start a monthly or annual Premium membership
After completing the payment process, go to your account's page
Follow the instructions to turn off auto-renewal
We update Hola often with bug fixes and new features. We keep your version of Hola automatically updated.
Android and iOS users: Ensure that you keep automatic updates on
If you have gone through the above troubleshooting steps and are still facing problems, contact our support team, and include as much of the following information as you can:
The platform you are using Hola on
Your Operating System: E.g. Windows (XP, Vista, 7, 8), Android, Mac (OS X version)
Screenshots of the problem
A brief description of the problem
Name of the Antivirus or Firewall you are using
The type of network your computer is on: Personal (like your Home) or Corporate (like your work or University)
VPN or Proxy applications you are using/running
Which website(s) are you having problems with?
Purchase invoice, if the question is related to your Premium membership
Note: Many times resetting your computer/cell phone and ensuring that you have internet connectivity will solve your problem.
You can allow Hola in incognito as follows:
Open extension page
Enable "Allow in incognito"
Try the following:
Go to Hola and click 'Start'
Your antivirus or firewall might be blocking the Hola installation. You can try to temporarily disable them (at your risk) and re-try to install Hola, to see if that fixes the problem.
On WinXP: Verify that you have service pack 3 installed
Ensure that your browser is up to date
You can uninstall Hola as follows:
Open Chrome > right click on Hola's icon
Click 'Remove from Chrome'
Note: This does not uninstall the Hola client from your PC; to remove the client, carry out the steps below
Hola client for Windows:
Go to 'Programs and Features' in 'Control Panel > look for 'Hola' and uninstall it
Hola client for Mac:
Quit the Hola client then drag the Hola client from 'Applications' to 'Trash'. Restart your Mac
In 'Search programs and file' bar in Windows 'Start' menu
Search for 'System Configuration'
Switch to 'Startup' menu
Look for 'Hola' and uncheck it
Click 'OK'
Windows 8.X/10:
Click on Windows 'Start' button
Click 'Control Panel', and open 'System and Security'
Choose from the list 'Administrative Tools', and open 'System Configuration'
Click 'Startup' then 'Open Task Manager'
Choose 'Hola Better internet' and disable it
Ensure that necessary services are enabled in Windows:
Press WIN+R and type services.msc in the opened dialog, then click 'OK'
'Services' control panel should be started.
Locate and right-click 'Remote Access Auto Connection Manager' in the right pane of 'Services'
Click on 'Properties'
Select 'Manual' from 'Startup type' and click 'OK'
Next, locate and right-click 'Remote Access Connection Manager' in the right pane of 'Services'
Click on 'Properties'
Select 'Manual' from 'Startup type' and click 'OK'
Next, locate and right-click 'Telephony' in the right pane of 'Services'
Click on 'Properties'
Select 'Manual' from 'Startup type' and click 'OK'
If the verification link is not clickable or part of the link is cut off, copy and paste the entire URL into your browser's address bar and press Enter
The verification link might have expired. To request a new verification link, visit my account, sign in, and then resend a verification link
If you are still unable to verify your email address within 48 hours, please contact our support team
If 2-step verification (2-step authorization) is annoying, you can disable it in settings. But keep in mind that disabling it makes your account less secure.
We appreciate any contribution that help us keep our users safe.
We will provide a modest bounty of $50 for a qualified and unknown vulnerability report. For critical and high-impact security vulnerabilities we will provide a higher bounty at our discretion. Contact us!
We love to hear your feedback and ideas. Contact us!
If you want us to remove your Hola account and all of its associated data, please let us know by sending an email to privacy@hola.org
* only relevant for versions installed via Samsung Galaxy Store, Huawei or Amazon
When you are not using your device
(so that you always have the fastest speed at your fingertips)
When your device is NOT roaming
When your device is connected to an electricity source
(so that you always have all the battery power you need)
You can read here more about community powered (Peer-to-Peer) network
We prefer to use WiFi! We may use very limited cellular data and we won't use while roaming
Go to menu (top right of the home screen)
Click 'Settings'
Choose 'WEB' from the top list
Scroll down to 'Advanced Settings'
Click 'Clear history'
Please note: You can also set Hola to clear the browsing history every time you exit Hola by selecting the check box 'Clear history on exit' at the top of the list
Hola app comes with a built-in browser which allows you to access any website from any country. Click the country flag from the top of the screen to change the Hola browser IP (internet address) to the country you want to virtually browse from. Once you pick a country, enter the website you want to browse to in the address bar. You will be virtually browsing from the country you selected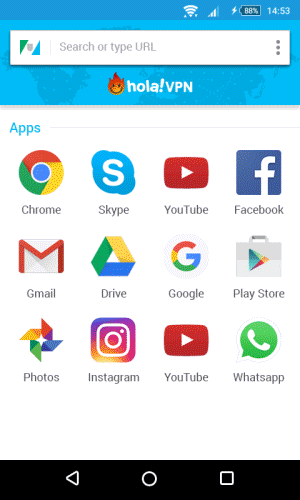 To see a list of popular sites in your country, click the Hola browser's address bar from the home screen. From that list, you can select the site you want to browse to, and the country you want to browse the site from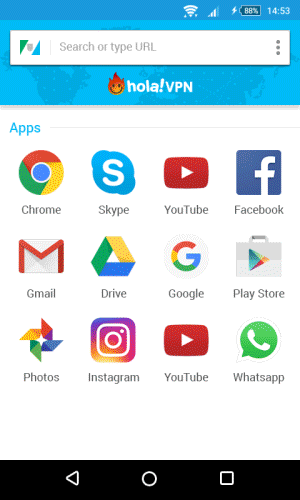 Hola helps to make the internet faster, more open, and cheaper to operate. We cannot provide support for a specific domain or service. Moreover, users must always comply with the site's terms of use Using pay sites with Hola.
To check the functionality of the service please visit IP location service and you will be able to see your IP is an IP of the country you selected.
If Hola isn't working on your Android device, it's possible that there is a conflict with another application or system settings.
The following apps can not run at the same time or might cause conflict with Hola:
Ad-blocker apps: Some content might not appear/work due to ad-blocker apps. Thus, try to turn ad-blocker apps off, and then try again to load the requested content.
VPN apps: Hola cannot work with VPN apps at the same time
DNS apps: Hola cannot work with other DNS applications at the same time
Remove previously installed settings
Try to reset your network settings
Ensure that you turn on the Hola's service directly from the Hola app, and not from the settings
App is set to a 'browsing from' country with Hola but still does not work:
Open Android settings > Application manager > Downloaded > select the app you wish to get access to > Clear data > clear cache
Open Hola > look for the app you want to use with Hola and click on it > select the requested country from 'Browsing from' > click open
Go to Hola app > settings > turn 'Popular List' off
Go to Hola app > settings > turn off Hola
Open 'Play Store'
Press the 'menu' button, and then under 'Apps & Games' select 'My apps & games'
Look for Hola and uninstall it
Please note: If you have Hola Premium, this neither stops payments nor ends the subscription! To stop the subscription, visit 'Subscriptions' in 'My Account' settings on the 'Play Store'
Open your phone's browser
Search on Google for the application's APK download. For example, if you are looking for the Wikipedia app (which you might not be able to download if blocked by your government), search for 'Wikipedia APK download' (this is the application's installation file)
Once the APK is downloaded, click it to start the installation
If you get a message that you can't install non-Market apps, see How to enable non-Play apps
Once installed, go back to Hola app, and open the desired app
To report a problem on Android, follow these steps:
Open Hola > settings > 'Issue Report'
Write a brief description about the problem
Attach screenshots of the problem
For all iOS-related questions, see Hola iOS FAQ
For all billing questions, visit the Hola Billing FAQ
Hola is the first community powered (Peer-to-Peer) network, where users help each other make the information on the web accessible for everyone again.
Hola is very easy to setup (one click), and has free version (time-restricted) and ad-free for PC and Mac users. It is useful for seeing how a website looks like from a certain country, for overcoming government censorship (e.g. using Facebook from a country that blocks it), for overcoming your corporation's internet site blocking, for seeing a site in its native language (e.g. seeing the Spanish news site as it appears to Spanish users), and more.
Hola is free limited on PC, MAC and Android for private use. For a commercial-level service, see Bright Data service
Go to a website you would like to use, click Hola's extension icon in your browser, and select the country from which you would like to access the site. Hola will switch your IP (your internet address) to the country you selected, so that you are virtually browsing from that country.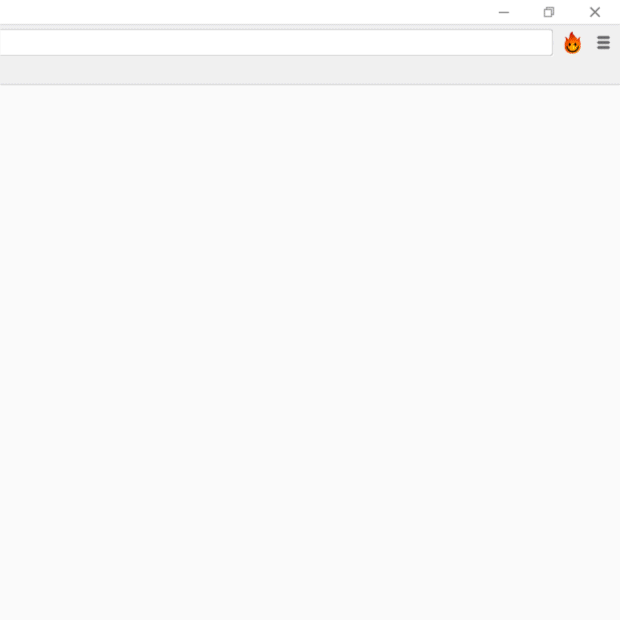 Alternatively, you can click the Hola extension from any page, and enter a website you would like to access, then select the country. Enjoy!



We cannot provide support for a specific domain or service. Moreover, users must always comply with the site's terms of use Using pay sites with Hola.
To check the functionality of the service please visit IP location service and you will be able to see your IP is an IP of the country you selected.
If you purchased a Hola Premium account and wish to get a refund, please send us the email address with which you signed up to our service.
When Hola identifies a webpage that many people in your country access by using Hola, Hola assumes that you may want to access this page via Hola as well. You can click 'unlock' to access the page via Hola, or click 'x' to continue browsing normally. Based on your decision, Hola will create a rule that you can change afterwards.
Hola regularly monitors the consumer network for traces of misuse or security breaches. In addition, architecture modifications allow Hola to see the origin of each request, thus if a cyber criminal were to use the Hola network, the cyber's criminal information may be passed on to the authorities. This makes Hola un-attractive to abusers. Some networks don't see both ends of the connection, and are therefore much more attractive for these uses.
The use of torrent apps on our network is not allowed, and we are blocking torrents traffic.
To route your traffic through other IPs, Hola must act as a proxy for your data, thus requiring various data permissions
We only ask for the permissions we need for the app to work best
More details about the required Android permissions can be found below.
Device & app history: Hola allows you to launch, from within the Hola app, apps you installed in your device
Identity: Hola also needs to create an ID for your Android device, and the ID is created from the various hardware readings
Photos/Media/Files: We use the external storage of the device for caching and storing data
Device ID & call information: Hola uses peer-to-peer technology as a VPN proxy, on Android we need to identify when the device is using the power supply and NOT roaming, so we don't waste your battery, or slowing down your phone.
No. Hola handles your HTTP requests exactly like HTTP web proxies do, according to the HTTP RFC standards, and in a similar way to how ISPs do it in the normal course of your browsing. That also covers 'Cache:' public/private HTTP headers, and their correct handling.
This is a false positive report. The file it's catching is part of the Hola smart cache (you can mark it as safe, don't delete). We are working with the top antivirus vendors to get Hola completely whitelisted, so that these types of false positives don't disturb our users.
Please see the attached document to see how Hola complies with multiple security company requirements.
Like other commercial networks, Hola is a managed and supervised network and thus any illegal activity such as CP would be reported to the authorities with the user's real IP. Criminals will typically not use a commercial service, because their identities are at the hands of that commercial entity.
Non-commercial networks such as TOR are completely anonymous, and nobody has access to the source of the requests on that network. That makes these networks ideal for criminal activity, and running a Tor relay/bridge is most likely helping the wrong people, as well as putting the operator in danger. Hola is a commercial network, run by a commercial company that has its customers and its business in mind. Thus, when sensing any dubious activity on our network, we are able to see the source of the request and help law enforcement get to the cyber criminal. We've never yet heard of a case where a Hola user had any such problems, despite having an installed base that is a few thousand times bigger than any other comparable network such as Tor. If you are still concerned about these risks, you have the option of not installing or uninstalling Hola.
Hola's Chief Security Officer (CSO) is responsible for the overall security of the Hola network. Hola's CSO leads the development, implementation, and management of the organization's security vision, strategy, and programs. Recent actions include internal and external security audits, security bounty program, securing the consumer and commercial onboarding processes, and changes in the Hola network architecture.
To expose Hola's products and networks to external scrutiny, we occasionally offer a vulnerability bounty program, by which researchers can receive recognition and compensation for reporting security vulnerabilities. This program allows Hola to discover and resolve security issues before the general public, thereby preventing the abuse of the Hola networks.
Windows: Win 8 and higher
Mac: OS 10.11 El Capitan and higher
iOS: iOS version 8.0 and higher
Android: version 5 and higher
Hola Premium subscription can be used up to 10 devices.
Make sure to purchase your subscription here.
Subscription bought on mobile device can only be used on that device.
Full access mode:
IKEv2/IPsec, PPTP/L2TP (default: IKEv2/IPSec)
Encryption: DES3,AES128,AES192,AES256 (default: AES256)
Integrity check: MD5, SHA1, SHA256,SHA384 (default: SHA1)
Diffie-hellman group: MODP1024, MODP2048, MODP2048_256 (default: MODP2048)
Full browser/site proxy mode:
Access site mode:
Proxy split tunneling (not all your traffic is encrypted)
For PPTP
IP Protocol=TCP, TCP Port number=1723
IP Protocol=GRE (value 47)
For L2TP
IP Protocol Type=UDP, UDP Port Number=500
IP Protocol Type=UDP, UDP Port Number=4500
IP Protocol Type=UDP, UDP Port Number=1701
IP Protocol Type=50
For IKEv2
IP Protocol Type=UDP, UDP Port Number=500
IP Protocol Type=UDP, UDP Port Number=4500
IP Protocol Type=UDP, UDP Port Number=1701
IP Protocol Type=50
Make sure you are signed in with your Hola Premium account details to allow Hola to correctly identify your account type. You will find a sign-in menu in every Hola Premium product - on desktop and on mobile.
Here are a few tips to improve your Hola Premium speed:
If you don't need a specific country, connect to the country that is closest to you.
Connect with wired LAN - it is always faster than WiFi.
Reboot your device to clear networking settings that were maybe cached.
Many websites keep track of their visitor's IP addresses. When you connect to Hola Premium, your public IP address changes from your regular IP address to a different IP address. Some sites may display a message or send you an email saying that an unusual login was detected.
The reason for these warning usually is the rapid change in IP address that happens when you use an IP network. For example, if your home country is India, you usually connect to the website from an India IP address. If you visit the same site after connecting to a USA server, the site will suddenly see you connecting from the USA server and consider it suspicious.

You are welcome to share your account with your family so that they can enjoy Hola Premium as well. Just remember that your account allows up to 10 devices.
If you need more than 10 devices, simply buy a second Hola Premium subscription.
To manage your subscription, go to your account.
This depends on which device you used to subscribe to Hola Premium:
If you subscribed from your PC or Mac: Go to your account.
If you subscribed from your an iOS device: Follow Apple's instructions. Please note that In-app purchases that were already made are non-refundable due to Apple's terms of service.
If you subscribed from your an Android device: Follow Google's instructions. Please note that In-app purchases that were already made are non-refundable due to Google Play's terms of service.
Your payment method is charged at the time of purchase, with the option of a full money-back guarantee.


Clarification:
Users who purchased our monthly or yearly plan will have a 30-day money-back guarantee.
Users that purchased our weekly plan will have a 7-day money-back guarantee.
While our 30-day and 7-day refund policy allows customers to use Hola risk-free, we must also protect ourselves from fraud. Therefore, we reserve the right, in our sole discretion, to limit or deny refund requests in cases where we believe there is refund abuse.
Without derogating from the above, a customer will not be entitled to receive a refund more than once.


To receive a refund, please submit a refund request.
Please note we cannot issue refunds for purchases made on Apple's App Store. However, you can contact Apple's App Store support directly.
To contact our support team, fill a support form.
Using two services at the same time can cause unexpected behavior. If you'd like to use two services, simply quit one of them while using the other.
Yes, you still need to register and pay for sites that require registration and payment, even when using Hola. In addition, you must always comply with the site's terms of use.
Yes, Hola works on Windows, even if running under VMWare. Our browser extensions work on all operating systems that support Chrome, Opera and Edge (except mobile). However, you should close the Hola client on the host system before you open the virtual machine, and never try to run Hola on both the host and guest operating systems at once.
Yes, using Hola Premium - see Hola Premium Setup configuration page.